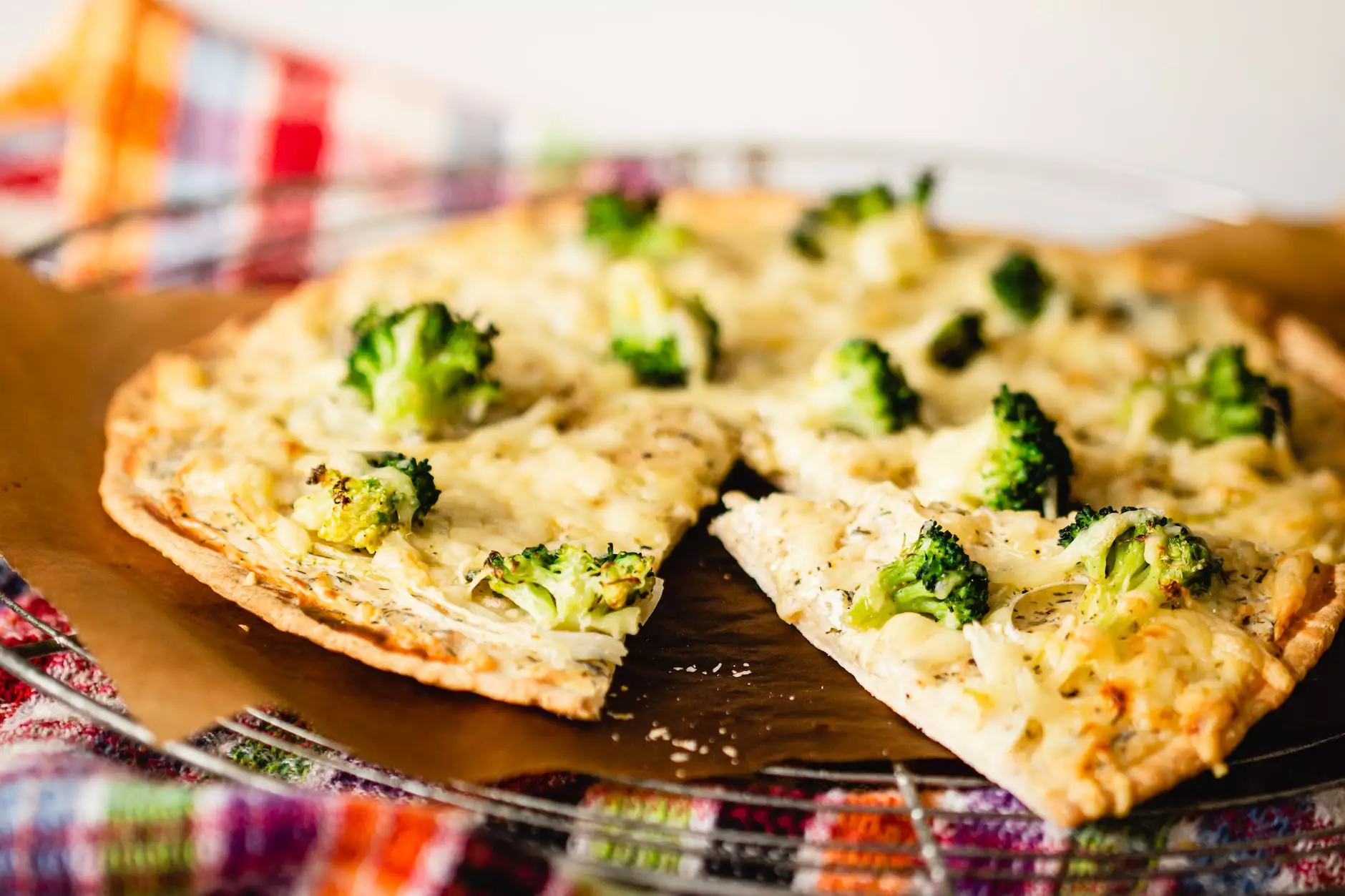 Discover the Irresistible Broccoli Rabe Pizza at Anthony's
Indulge in the mouthwatering flavors of our signature Broccoli Rabe Pizza at Anthony's. We are proud to present this delectable creation that combines the freshness of broccoli rabe with the perfect blend of melted cheese and a crispy crust. Each bite is a burst of flavor that will tantalize your taste buds.
A Fusion of Italian Delight and Unique Ingredients
At Anthony's, we have crafted a pizza experience that combines traditional Italian techniques with inventive flavors. Our Broccoli Rabe Pizza showcases the versatile and vibrant broccoli rabe, also known as rapini, as the star ingredient. This leafy green vegetable is sautéed to perfection, adding a pleasant bitterness that pairs wonderfully with the creamy melted cheese.
The Perfect Crust for Pizza Enthusiasts
Every pizza lover knows that the crust is an essential element of a great pizza. Our skilled pizzaiolos at Anthony's have perfected the art of creating a crispy yet tender crust that elevates the overall dining experience. The golden-brown crust acts as a delightful canvas for the contrasting flavors of the broccoli rabe and cheese, creating a symphony of taste.
Captivating Food Photography Showcasing Delicious Creations
At Torched Web Solutions, LLC, we specialize in food photography that brings out the essence and savoriness of culinary delights. Our team of professional photographers captures the enticing Broccoli Rabe Pizza at Anthony's in stunning detail. From the vibrant green hues of the broccoli rabe leaves to the melted cheese oozing over the edges, every aspect of this masterpiece is portrayed with precision and artistry.
Food Photography that Engages the Senses
Our expert photographers understand that visually appealing food photography goes beyond a mere image. It should invoke your senses, making you envision the flavors and textures that await each bite. Through careful composition and lighting techniques, we bring the Broccoli Rabe Pizza to life, allowing you to savor its essence even before tasting it.
Perfectly Crafted Images for Your Culinary Endeavors
Whether you are a restaurant owner looking to showcase your menu or a food blogger seeking to captivate your audience, our food photography services cater to your unique needs. We strive to deliver images that not only represent your delectable creations but also entice your viewers to experience the irresistible flavors of your dishes.
About Torched Web Solutions, LLC - Website Development for Business and Consumer Services
Torched Web Solutions, LLC is a leading provider of website development services in the Business and Consumer Services industry. We specialize in creating visually stunning and user-friendly websites that help businesses thrive in the digital world.
Empowering Your Online Presence
In today's competitive online landscape, having an effective website is crucial for businesses. At Torched Web Solutions, LLC, we understand the importance of a strong online presence. Through our website development services, we empower businesses to connect with their target audience, showcase their offerings, and drive growth.
Customized Websites Tailored to Your Unique Needs
Our team of skilled web developers and designers works closely with clients to create tailored websites that align with their brand identity and goals. We take a comprehensive approach, considering factors such as user experience, search engine optimization, and responsive design to deliver websites that not only look visually appealing but also perform exceptionally well.
Optimizing Your Website for Search Engine Visibility
We believe that a visually appealing website is only the first step. To outrank your competitors and attract organic traffic, your website needs to be optimized for search engines. Our team of SEO experts leverages proven strategies and techniques to enhance your website's visibility, helping you achieve higher rankings on search engine result pages.
Responsive Design for Seamless User Experience
In the era of mobile browsing, having a responsive website is essential. Our web development services prioritize responsive design to ensure your website looks and functions flawlessly across all devices. This not only provides a seamless user experience but also helps improve your search engine rankings.
Unleash the Flavorful Delight of Broccoli Rabe Pizza
At Anthony's, we invite you to experience the tantalizing combination of spicy broccoli rabe, melted cheese, and crispy crust in our signature Broccoli Rabe Pizza. Through captivating food photography by Torched Web Solutions, LLC, we present this culinary delight in all its savory glory. Visit our website today to explore our menu and embark on a flavorful journey like no other.